School Life - Vida Escolar
Since our founding in 1959, St. Patrick has provided a faith-filled and academically rigorous experience that forms both the mind and the heart. Our faculty and staff members work together with our hundreds of students from grades K-8 and their families to create a vibrant and thriving community.
Desde la fundación de nuestra escuela en 1959, San Patricio ha provisto una experiencia académica riguroso y concentrada en la fe que ayuda formar la mente y el corazón. Nuestra facultad y miembros de personal trabajan juntos con nuestros cientos de estudiantes en grados K-8 y sus familias para crear una comunidad vibrante y próspera.
Academics - Académicos
St. Patrick provides its students with a rigorous curriculum that is a balance of academics, religion, and special subjects—such as music, art, physical education, and computers. Students graduate as 8th graders with a broad knowledge base that serves them well through their high school and college years.
San Patricio provee sus estudiantes con un currículo riguroso con balance académico, religión y temas especiales como música, arte, educación física y computadoras. Estudiantes se gradúan del octavo grado con una base amplia de conocimiento que les sirve para ser utilizado en el colegio y la universidad.
Athletics
Goals - Metas
To provide developmentally appropriate activities designed to develop your children to the fullest extent through movement, physical fitness, team sports, and individual and dual participant activities.
Proveer actividades apropiadas diseñadas a desarrollar sus hijos a su capacidad máxima a  través de movimiento, aptitud física, deportes en equipo, y actividades individuales y dobles.
Responsibilities - Responsabilidades
To assist students in developing to their highest physical, mental, social, emotional, and spiritual potential.
To provide safe physical activities through games, dance, and sports for Kindergarten – 8th grade students.
To encourage in students an understanding about the value that Physical Education plays in relationship to a healthy productive life.
Assistir estudiantes a desarrollar y lograr su potencial máximo tanto físico, mental, social, emocional y espiritual.
Proveer actividades físicas seguras a través de juegos, baile, y deportes para estudiantes  desde Kindergarten hasta octavo grado.
Animar a los estudiantes para que ellos pueden entender el valor y el rol que tiene la educación física en relación a una vida saludable y productiva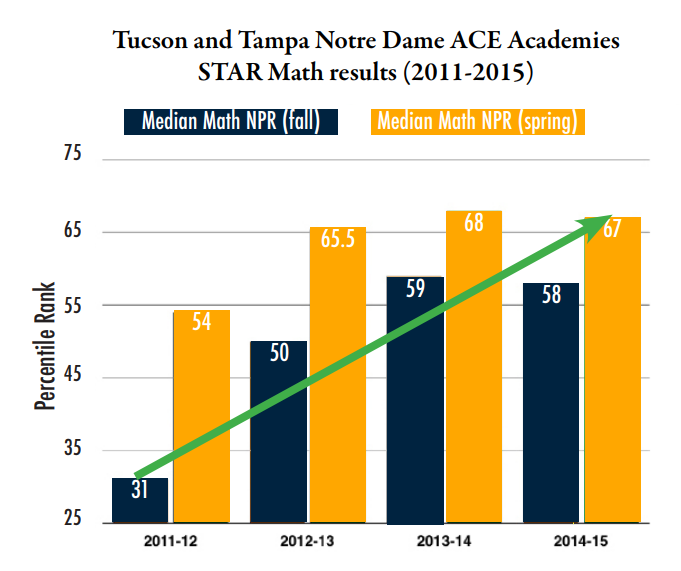 Moving from the Bottom Third to the Top Third in the Nation
Notre Dame ACE Academies are closing the achievement gap. The median national percentile ranking (NPR) of our students increased from fall to spring every year, indicating students gained more than 1 year of growth. From fall 2011 to spring 2015, on average, our students improved from the bottom third to the top third in the nation in math. Reading scores are just as impressive with students moving from the 29th to the 53rd percentile.
---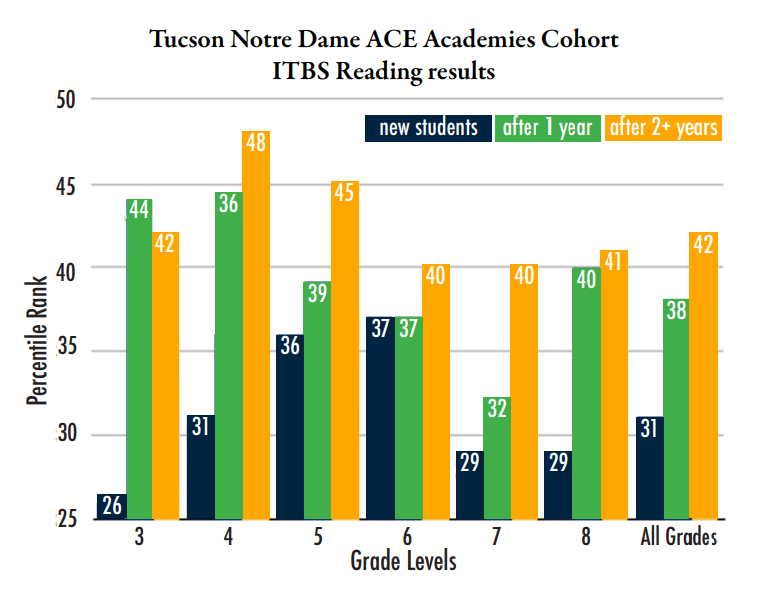 Closing the Gap Quickly
New students typically enter Notre Dame ACE Academies several grade levels behind (navy bars). Our culture of high expectations for academic growth and character formation quickly catch them up. Even students who have only been in the ACE Academies for 1 year show dramatic academic gains, which they continue to demonstrate in subsequent years (green & gold bars). Math scores show similar results with students entering in the 33rd percentile and quickly moving up to the 42nd after just one year.